2021 Family Conference Sessions
Many of the sessions at the 2021 NBIA Family Conference were video recorded. Click the button below to view a playlist of the available videos on our YouTube channel.

You may select the videos you would like to watch from the playlist.

VIEW CONFERENCE SESSIONS
First virtual family conference is one for the record books
Because of the COVID-19 pandemic, the 11th International NBIA Disorders Association Family Conference was held online in May, drawing a record number of participants and speakers.
The conference, held from May 20 to 23, attracted families who might not normally be able to travel to an in-person meeting. In all, we had 175 NBIA families attending from 27 countries and 40 states. Two years ago, in 2019 when the 10th family conference was held, 77 families attended, then the most ever.
This year's participants overwhelmingly said in their evaluations that the conference was excellent or outstanding and that the length was just right — four days for about five hours each day.
The conference offered something for everyone with over 50 speakers, also a record number. We had speakers sharing their inspirational stories, advocates discussing how to build resiliency in children and information about community living for disabled individuals transitioning to adulthood.
In addition, our NBIA researchers spoke about the projects they are exploring and led disease-specific clinical sessions for the most common NBIA disorders. The conference also featured sessions on topics such as dental health, nutrition problems and tips for holding fundraisers.
There were meetups for younger and older adults with NBIA, grandparents and extended family members and siblings. Yoga and meditation sessions were held daily and well-attended. We had a happy hour on Friday and a dance party on Saturday. We strove to give everyone a sense of togetherness, which we consider a key ingredient to a successful conference.
FAMILY CONFERENCE PHOTO BOOTH FUN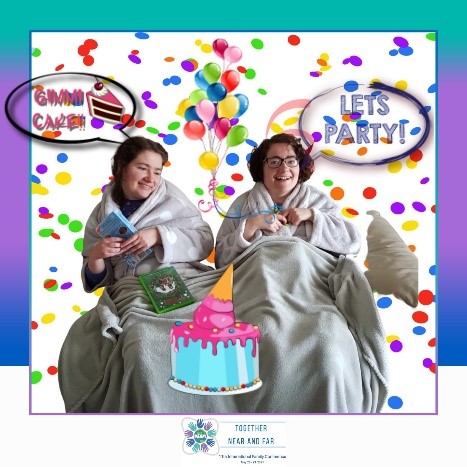 Our conference would not have been possible without our sponsors. Thanks to our Premier Sponsor, INADcure Foundation, our industry partners CoA Therapeutics Inc., Travere Therapeutics Inc. and Chiesi USA Inc., and our in-kind sponsor 4Gen Digital, which created our online conference merchandise shop.
Deep thanks to the committee who meticulously planned and organized the event, led by Meg Talley Dyer, Veronica Bonfiglio and Susan Laupola. Others on the conference committee were Mike Cohn, Sarah Doerr, Amanda Hope, Leena Panwala, Martha Nell Richards and Jeanne Sterken.
2021 NBIA Disorders Association
Conference Memorial Video